Classic look. Modern sound.

Restore and upgrade your original factory radio controls to AM/FM, Bluetooth, USB, MP3 and more with high-quality American-made electronics by Aurora Designs.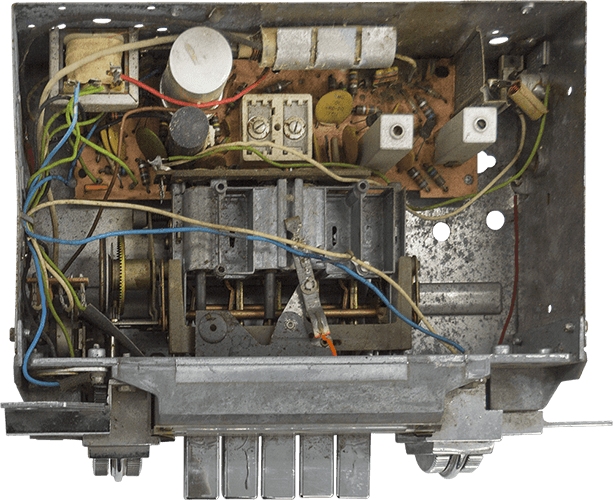 Your Original Radio
Fully disassembled and cleaned
Structural repairs are made
We rebuild the radio tuning section so that the original controls can be used
More Details
This process allow us to retrofit almost any make and model of radio. Very few of the non-cosmetic radio components are used in the new setup. It's basically just your original controls. Don't worry, we don't change the look of the original face, but we will re-face it to match factory and re-paint the station needle to match the showroom look if necessary.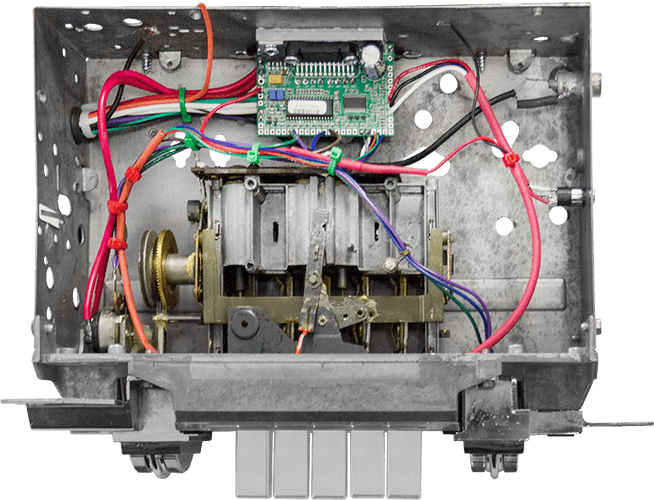 Rebuilt From the Ground Up
All components fully disassembled media blasted and cleaned
Retrofitted with Aurora Designs Electronics that suit your needs
Original radio controls are cleaned, lubricated and made to work with the new circuit board
More Details
Not shown are the aux in, microphone for Bluetooth calling and the speaker harness that is included to make installation a breeze.
We test your retrofitted radio for over 24 hours straight to ensure it will last. Don't need Bluetooth? Have specific features in mind? We have many different configurations to suit your needs. Contact Us for more info.
Have your cake. Eat it too.
We understand that to some enthusiasts originality is sacred, and putting a modern head unit in your vintage car or truck is out of the question.
Mr.Heaterbox and Interior has partnered with industry-veteran radio-designers at Aurora Designs as an Authorized and Factory Supported Integrator to offer classic radio conversions that use your original factory radio controls. Unfortunately, we are unable to offer these amazing electronic components for sale separately.
We strip down and restore the look of your old radio housing, rebuild the tuning section, and then retrofit it with AM/FM, USB, Certified Bluetooth, MP3 capabilities.
Aurora's OEM quality digital electronics are 100% designed and manufactured in the USA. They're fully FCC certified, SAE Compliant and use industry-standard techniques and components.
 They're as good or better than anything in your modern car today!
INTRODUCTION
Contact us by email or phone (+1 613 532 2587 ) and chat with us about your project.
We'll discuss the features we can add to your radio and give you a quote on the cost of conversion.
Documentation
Once we receive your radio, we will inspect the condition of your parts and take photos of everything we receive.
We thoroughly document the process of all of our restoration work.
Restoration
Your radio will be fully disassembled, components cleaned and if needed the case will be media blasted before the electronics are installed.
We restore your radio as if it was going in our own car.
We run the radio for over 24 hours as a part of our thorough quality audit.
Support
Once you have it back in your hands, your radio will be ready to install.
We understand that isn't where the process ends.
We're always available to answer your questions and we will do everything in our power to help you ensure a perfect installation.
BLUE LED | Bluetooth Mode


MAGENTA LED | USB Storage Mode

AMBER LED | FM Radio Mode

GREEN LED | Aux Input (3.5mm) Mode

Ask about our USB / 3.5mm install kit. Can be mounted on any flat surface with the included bracket, or through a hole in your dash.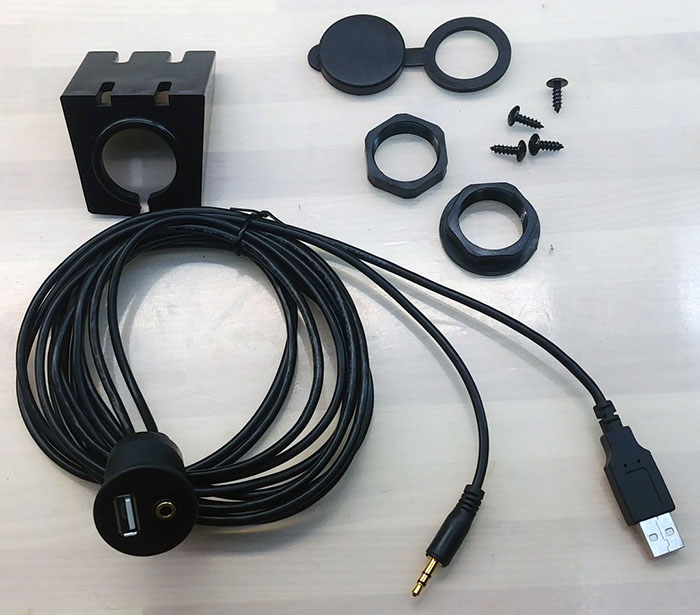 Frequently asked questions
What is classic Radio restoration?
The "Classic Radio Restoration" brand is an extension of our Mopar Interior Component Restoration business "Mr.Heaterbox and Interior". Out of our shop we restore everything for the interior of classic Dodge, Chrysler, Plymouth and AMC vehicles. 
With our existing shop, tools and techniques, we can also update any make or model of factory radio to brand-new condition, by rebuilding it using fully licenced and certified modern electronics.
We take your radio completely apart, remove the original components, rebuild the tuning section, buttons and switches and restore the exterior look of your radio so it will continue to impress and be functional for years to come.
Do you restore the original circuitry?
Unfortunately not, nor would we want to honestly. The FMR and BT circuit boards are highly reliable and provide the best possible audio quality and feature set for your car with the illusion of being factory original.
When we convert your original head unit, we remove everything possible to keep it as clean and simple as we can.
As with everything, exceptions can be made for certain rare and valuable radios, but in general we don't work on that kind of thing. We'd be happy to chat about your project, so feel free to Contact Us anytime.
Can You re-chrome my bezel?
In general, we do't do chrome work. We aren't equipped with the facilities or supplies necessary.
If the chrome is extremely pitted and in terrible condition, we will work with you to figure out a solution. We have access to a large library of core parts and we may be able to find a donor radio with a better looking bezel.
We also work with our partners in the plating industry before on projects, and we are happy to facilitate re-chroming. This will however add a significant cost and time delay to your project.
My head unit has a tape deck. Can you get that working?
We are more than happy to restore radios that had a tape deck unit, but unfortunately the tape mechanism will be for display only. We disconnect the tape player as a part of the conversion.
Let's Chat About Your Restoration Project
Address
4126 Henderson Rd.
Harrowsmith, ON
K0H 1V0
Canada
Phone
Give us a Call
1-613-532-2587
Email
24/7, 365 Days a Year
info@classiccarradiorestoration.com
Mopar Parts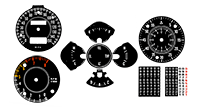 We're passionate Mopar restorers, and we manufacture and sell over 900 interior restoration products for your 1960-80 Dodge, Plymouth, Chrysler or AMC vehicle.
Pick up one of our brand-new dash circuit boards, tachometer boards or a gauge re-facing kit today!
Radio Restorations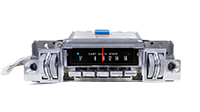 Our radio restoration/conversions cover all makes and models, not just Mopar.
Get the features and reliability that you need in your classic cruiser, show car or daily driver.
Tell us about your project and we'll give you the premium customer service you deserve.
Mopar Services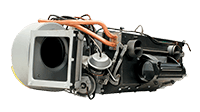 Over 15 years in business and a lifetime of experience restoring classic Mopar cars means that we have the tools, techniques and parts available to restore any part of your interior to factory perfect (or better).
If it's between the doors, we can restore yours!.